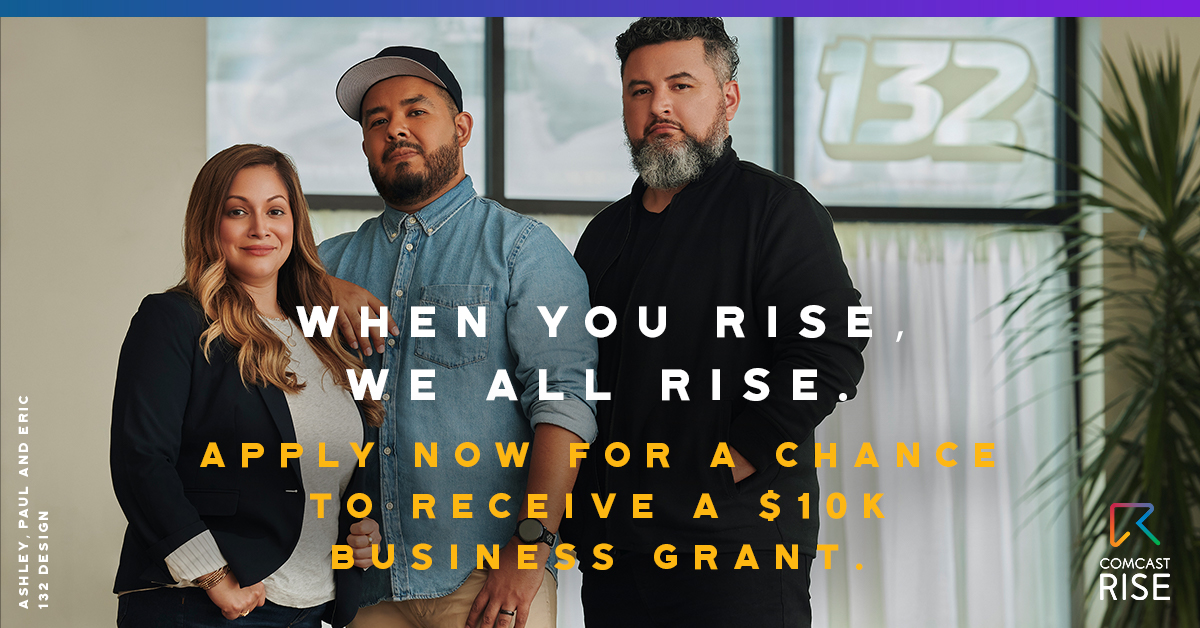 Applications open October 1 - 14, 2021
The Comcast RISE Investment Fund provides monetary grants to help small businesses owned by people of color (POC) grow as they navigate the challenges of the pandemic.
The Investment Fund is the latest extension of Comcast RISE (Representation, Investment, Strength, and Empowerment), the multi-year, multi-faceted initiative launched in 2020 to provide POC-owned, small businesses the opportunity to apply for marketing and technology services from Comcast Business and Effectv, the advertising sales division of Comcast Cable.
Comcast RISE is part of a larger $100 million Diversity, Equity and Inclusion initiative that Comcast launched this summer. In June 2020, Comcast NBCUniversal announced the development of a comprehensive, multi-year plan to allocate $75 million in cash and $25 million in media over the next three years to fight injustice and inequality against any race, ethnicity, gender identity, sexual orientation or ability.
GRANT DETAILS
600 grants totaling $6 million will be distributed as follows:
100 small businesses in each city

Each business will receive a $10,000 monetary grant

Application period is October 1-14, 2021

Grants will be announced at the end of November 2021 and awarded in December 2021

Applications will be available online at www.ComcastRISE.com.
GRANT ELIGIBILITY
Businesses must:
Be established business operations for 3 or more years

Have one to 25 employees

Be in the following geographic locations to be eligible:
Houston, TX (Harris and Fort Bend Counties);
Miami, FL (Miami-Dade and Broward Counties);
Minneapolis-St. Paul, MN (Anoka, Carver, Dakota, Hennepin, Ramsey, Scott, and Washington Counties);
Oakland, CA (City of Oakland);


Seattle, WA (King and Pierce Counties); Washington, D.C. (Wards 1-8)
Applications are open for the Investment Fund starting October 1 - October 14.  Apply today at www.ComcastRISE.com.
The Chamber is proud to be a local Comcast RISE partner!
Las solicitudes para el Fondo de Inversión están abiertas desde el 1 de octubre hasta el 14 de octubre. Solicite hoy mismo en www.ComcastRISE.com.
¡La Cámara se enorgullece de ser un socio local de Comcast RISE!
IF A BUSINESS IS NOT ELIGIBLE FOR THE COMCAST RISE INVESTMENT FUND, APPLICATIONS ARE OPEN FOR MARKETING AND TECHNOLOGY SERVICES.
What's the 411 with Comcast RISE?
Juan Alanis, with the Juan of Words podcast, hosted a live stream interview to discuss the tremendous opportunity made available to business owners in Houston and five other cities through the Comcast RISE program. A total of 600 $10,000.00 grants are available = $6 million to support businesses owned by people of color.
Guest Panelists included:
Toni Beck, Vice President External Affairs, Comcast Houston
Paul Gor, Director of Community Development, Asian Chamber of Commerce
Tammi Wallace, Co-Founder, President & CEO, Greater Houston LGBT Chamber of Commerce
The Greater Houston LGBT Chamber of Commerce is proud to be a local Comcast RISE partner!